One step short
Auburn fell behind early against Oklahoma Wednesday and simply couldn't make up ground against pitcher Paige Parker.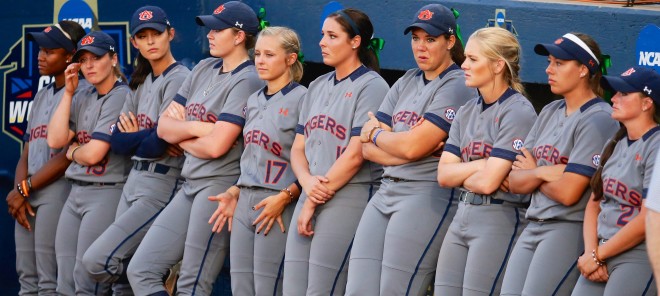 OKLAHOMA CITY | The most successful, celebrated, raucous season in the history of Auburn softball ended quietly Wednesday night for an unusual reason.
The nation's highest-scoring team managed to push just one runner across the plate in a winner-take-all Women's College World Series game. A national championship hung in the balance and perhaps that pressure became the one thing capable of stopping these Tigers in their tracks.
Oklahoma won, 2-1.
"I'm very proud of these young ladies who play softball at Auburn University," coach Clint Myers. "They battled, they were relentless. We didn't do the little things. If we do the little things, we win that game 1-0."
The final game of Auburn's record-breaking season was a relatively straightforward event. Oklahoma scored a pair of runs during the first inning after second baseman Emily Carosone booted a grounder and then fumbled a fake throw aimed at scaring a baserunner into indecision.
That baserunner instead scored Oklahoma's first run.
Pump fakes long have been part of Carosone's defensive persona. Never has one gone awry.
"I don't get it. It's never happened before, but it happened today," Carosone said. "It slipped."
A second baserunner scored moments later when shortstop Whitney Jordan used a passive approach to remedy a high-bouncing grounder. She calmly waited for the ball to arrive and then first for first base, but the throw was late.
An on-time throw would have ended the inning.
Oklahoma never seriously threatened after that. Freshman Makayla Martin fired 68-mph dropballs throughout the strike zone and beyond, which kept the Sooners' hitters uncomfortable throughout. She conceded five hits. All of them were singles.
The problem for Auburn was that Parker was just as good -- and her defense was sharper. That was proven during the third inning when Auburn loaded the bases with no outs. After Carosone struck out, Carlee Wallace struck a weak grounder to the shortstop, who quickly initiated a double-play sequence that allowed OU to extricate itself from disaster.
It was a missed opportunity for the Tigers.
"She's a great pitcher," said Carosone, who on Tuesday said Auburn would get to Parker in the final game. "She did her thing and shut us down."
Jade Rhodes halved OU's lead with a long homer in the fourth inning. The Tigers felt like they were making progress toward understand how to exploit Parker and her left-handed arsenal, but the Tigers instead fell flat.
The homer represented Auburn's final hit of the game. In fact, no hitter even reached base after that.
Third baseman Kasey Cooper showed some unusual emotion afterward, criticizing herself and her teammates for failing to get Carosone off the hook for those early mistakes. Better results at the plate, Cooper surmised, would have turned Carosone's errors into footnotes.
"I'm frustrated to the fact that we know we're better. I'm more frustrated that we didn't have Emily's back," Cooper said. "Emily had a bad game and we weren't there for her. When Whitney had a bad game (Tuesday), we got behind her and we gave her the support. Emily shouldn't be feeling this way."