Auburn 'like heaven' to Rivals100 recruit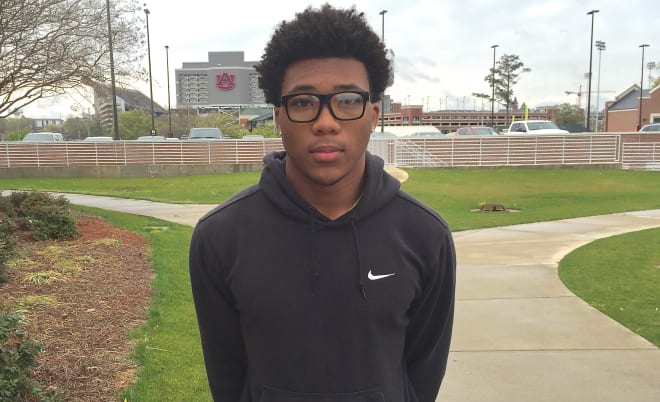 AUBURN, Ala. | Tampa (Fla.) Catholic's Devan Barrett plans to narrow his 35 scholarship offers to a more manageable number. The No. 2 athlete needs to make a cut, and he will in the summer.
One school already holding a spot on the list is Auburn.
"For sure," Barrett said. "Auburn is up there on my list. They will definitely be on it."
Barrett, who Auburn is recruiting at running back, made the declaration following his most recent visit. The Rivals100 recruit arrived in town on Friday and stayed until Saturday afternoon.
"It was amazing," Barrett said. "It's like heaven when you come to Auburn. It's a fun place to be and it's definitely a place I will come to again. The coaches are great. I talk to the coaches all the time. Everything at Auburn is great. I really like it."
Barrett met with Auburn running backs coach Tim Horton during his visit. He also spent time talking with offensive coordinator Rhett Lashlee.
"Coach Horton is just a great guy all around," Barrett said. "He's great to talk to both on and off the field. He's a great coach."
Barrett was able to see Horton in action during the Tigers' scrimmage on Saturday.
"I watched him and he's a supporter," Barrett said. "I like that when it comes to coaching. I also really like Coach Lashlee. He showed me the offense and the plays. It's a fast-paced game. They play fast and I definitely feel like I would fit into the offense."
Barrett, who stands 6-foot-1 and weighs 195 pounds, also met and hung out with several Auburn players, including receiver Ryan Davis and receiver signee Nate Craig-Myers.
"It just felt like I was at home and that is what is really important to me when it's time to commit," Barrett said. "It feels like family."
Barrett plans to narrow his list in the summer, take official visits in the fall and make a commitment on or near Signing Day in February.
"I'm going to take the process slow," Barrett said. "I want to make the right choice for me."
AuburnSports.com senior editor Bryan Matthews contributed.